am 23. März 2010 unter
Thailand
abgelegt
von lamed
---
Das war es dann auch schon wieder gewesen mit meinem Trip nach Südostasien…zwei Tage Bangkok…ein letztes Abschiedsessen mit der Familie von Ma Noi und nun auf der unliebsamen Heimreise……
Vor zwei Jahren von den Gelbhemden vertrieben, demonstrieren nun die Rothemden überall in Bangkok für die Rückkehr von Taksin….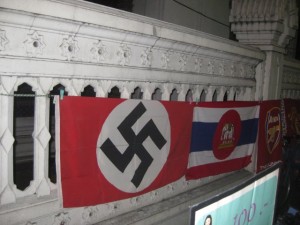 Hitlerfahne auf dem Markt in Bangkok….for what..??…for the Nazi.?…or for a Joke.?…because I think Thailand have not so much Nazis…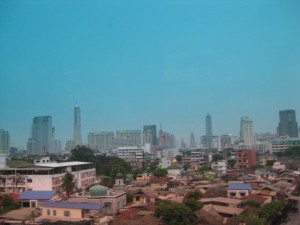 …big…big…Bangkok…
…noch ein letzter Besuch im Tempel…für ne gute Heimreise und alles gute for everything….
…Abschiedsessen …und die Kleinen dürfen mit dem Computer spielen…
Noch ne Bootsfahrt….auch gut um sich in Bangkok fortzubewegen …..sehr günstig und nicht so stressig wie auf den Straßen von BKK…und die Mönche sind hier wie überall in Thailand sehr geliebt…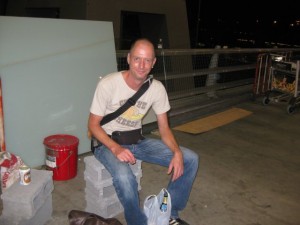 Noch ein paar Bier vor dem Rückflug…Adieu und eine baldige Rückkehr….
---
…und nun die gleiche Tour via Dubai nach Hamburg und back to Bremen….